"Waiting On" Wednesday is a weekly event, hosted by Jill at
Breaking the Spine
, that spotlights upcoming releases that we're eagerly anticipating.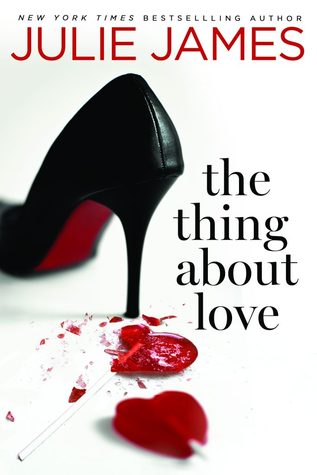 Title:
The Thing About Love
(Click on the title to know more about it on goodreads.)
Author:
Julie James
Genre:

Contemporary Romance, Adult Fiction
Publication Date:

April
18th, 2017
Two undercover FBI agents can hide who they are from everyone but each other in the latest novel from the New York Times bestselling author of Suddenly One Summer.

FBI agents Jessica Harlow and John Shepherd have a past. The former lawyer and cocky Army ranger clashed during their training at Quantico, gladly going their separate ways after graduating from the Academy. Six years later, the last thing either of them expects is to run into each other again–assigned to work as partners in a high-profile undercover sting.

For both of them, being paired with a former rival couldn't come at a worse time. Recently divorced from a Hollywood producer and looking for a fresh start, Jessica is eager to prove herself at her new field office. And John is just one case away from his dream assignment to the FBI's elite Hostage Rescue Team. In order to nail a corrupt Florida politician, they'll have to find a way to work as a team–a task that becomes even trickier when they're forced to hole up at a romantic, beachfront resort as part of the investigation. Suddenly, the heat behind their nonstop sparring threatens to make the job a whole lot more complicated.


I'm waiting because...
This is not going to be my first read by Julie James and certainly not gonna be last. I just LOVE her writing so much. As you can see from the summary it is going to be pretty amazing. Her writing is flawless with great storyline and characters. I've read the series FBI/US Attorney series and you can find all the reviews here. Then you will know why I am excited about this so much. I have also raved about this book and this author Instagram, you check out my page here. I am not half bad at it actually, lol.
What are you waiting on this Wednesday?