Goodreads Summary:
An eccentric wallflower…
Most debutantes dream of finding a husband. Lady Pandora Ravenel has different plans. The ambitious young beauty would much rather stay at home and plot out her new board game business than take part in the London Season. But one night at a glittering society ball, she's ensnared in a scandal with a wickedly handsome stranger.
A cynical rake…
After years of evading marital traps with ease, Gabriel, Lord St. Vincent, has finally been caught-by a rebellious girl who couldn't be less suitable. In fact, she wants nothing to do with him. But Gabriel finds the high-spirited Pandora irresistible. He'll do whatever it takes to possess her, even if their marriage of convenience turns out to be the devil's own bargain.
A perilous plot…
After succumbing to Gabriel's skilled and sensuous persuasion, Pandora agrees to become his bride. But soon she discovers that her entrepreneurial endeavors have accidentally involved her in a dangerous conspiracy -- and only her husband can keep her safe. As Gabriel protects her from their unknown adversaries, they realize their devil's bargain may just turn out to be a match made in heaven.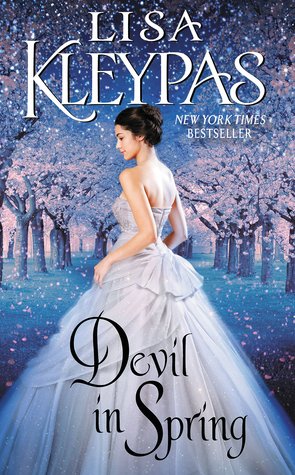 My Rating - 5 stars!
Lisa Kleypas is my historical romance queen. I LOVED The Hathaways, The Wallflowers and now The Ravenels. I loved every character and their books, so I was very happy to see that Devil in Spring was going to feature some of my favourite characters from The Wallflowers. This is a story about Pandora, one of the twin Ravenel and Gabriel, Sebastian and Evie's son!! I was very excited to read this story and it did not let me down, in fact, it surpassed my expectations.
Pandora is different, she doesn't fit into any box created for women in the 19th century. She is quirky, helpful, smart and diligent. She is so much more than just a woman destined to get married. She wants to invent and sell board games and do good for the society. That is why, she is afraid that marriage will ruin her plans.
Gabriel is a rake and has no plans to marry as well but after he is caught with Pandora in a situation which would be scandalous if they didn't marry, his plans get altered. Gabriel knows what he has to do, and that's to marry Pandora. Now only if Pandora was easy enough to say yes to the proposal. Even if it was a bit fast paced, I liked the flow and it didn't feel like a complete insta love kind of story, because Gabriel was all in and he was very loyal to her. He was with her the whole time, well even though he took some wee time to get there. Gabriel is one of my top favourite heroes and Pandora was just a sweetheart, I loved her from the beginning.
It was refreshing to see women empowering at that time. I loved how supportive everyone was of Pandora. I was very impressed to see all the research Lisa Kleypas had done for Pandora's character. I loved to meet everyone from Gabriel's family and I would love to read their stories. I am waiting for certain some characters to get together. It was absolute fun to see everyone from the Ravenel family as well. The Ravenels have become such a tight-knit union. There was a scene where they are all going away, it was their last meeting and it was going to be a while before they could all be together. I remember feeling the same emotions as them as they were all going separate ways. They all get back together soon enough don't worry. But that is the depth of how much I am invested in the Ravenels. I can't wait for more books in this series.
Some of my favourite quotes
*
"Good God, she really did walk in circles. A pang of tenderness centered in Gabriel's chest like an ache. He wanted all her circles to lead back to him."

*
Sebastian, who had begun to laugh, seemed struck by that last comment.
"Ahhh," he said softly. "That explains it." He was silent for a moment, lost in some distant, pleasurable memory.
"Dangerous creatures, wallflowers. Approach them with the utmost caution. They sit quietly in corners, appearing abandoned and forlorn, when in truth they're sirens who lure men to their downfall. You won't even notice the moment she steals the heart right out of your body—and then it's hers for good. A wallflower never gives your heart back."

*
"He was charmed out of all reason as he watched her, this sandy, disheveled, storytelling mermaid, who seemed already to belong to him and yet wanted nothing to do with him. His heart worked in strange rhythms, as if it were struggling to adjust to a brand new metronome. What was happening to him?"

*
"She was so endearing, so indomitable, that Gabriel was wrenched with a feeling he'd never known before, as if all the extremes of joy and despair had been compressed into some new emotion that threatened to crack the walls of his heart."

*