Goodreads Summary:
If she has her way ...
Willa Davis is wrangling puppies when Keane Winters stalks into her pet shop with frustration in his chocolate-brown eyes and a pink bedazzled cat carrier in his hand. He needs a kitty sitter, stat. But the last thing Willa needs is to rescue a guy who doesn't even remember her ...
He'll get nothing but coal in his stocking.
Saddled with his great-aunt's Feline from Hell, Keane is desperate to leave her in someone else's capable hands. But in spite of the fact that he's sure he's never seen the drop-dead-gorgeous pet shop owner before, she seems to be mad at him ...
Unless he tempers "naughty" with a special kind of nice ...
Willa can't deny that Keane's changed since high school: he's less arrogant, for one thing—but can she trust him not to break her heart again? It's time to throw a coin in the fountain, make a Christmas wish—and let the mistletoe do its work.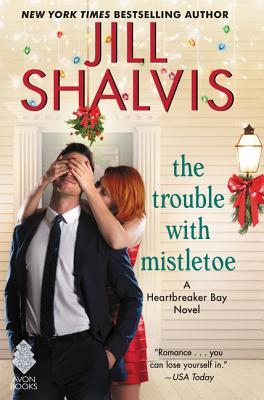 My Rating - 4 stars!
By now (if you've read my Jill Shalvis review, seen my Instagram or blog) everyone knows that JS is my favourite author and I sink into her book worlds as if I'm a part of it. It's basically my happy place.
All her books are my top favourite. And I recommend them all to every Adult Romance readers.
After meeting Willa in the first book, I was certainly curious to find out more about her and read her story. Willa is a pet shop owner and a member of a little group of friends in San Francisco. Growing up in foster care, Willa has been through rough times and that's why is set on helping other foster children but keeping a distance from everybody. Everything is A-okay until certain someone from her past enters her shop with his aunt's cat.
Keane is a very diligent person working nonstop with his flipping houses projects. And has been through some rough times himself too. He was living life alone very nicely until his aunt just drops her cat to keep in his care and he doesn't know what to do with it. He goes to one pet care shop he knows and sees that the owner is very pretty but has some grudge against him.
Both Keane and Willa can't stay away despite their efforts. They both have commitment issues and they have to overcome it or stay away from each other. Keane puts himself out there first and is able to break through the issues and show Willa that they are more than just friends-with-benefits.
Although I liked the story and both Keane and Willa were very sweet and likable, I just didn't find their chemistry as sizzling as Fin and Pru's or Archer and Elle's. They still made me happy though.
It was a great read. You meet the whole group, Fin, Pru, Archer, Elle, Spence and of course Eddie. I loved reading all about them. Reading this book was nice and happy time for me.
Some of my favourite quotes
*
"You're the most unforgettable person I've ever met."
*
"Who's a good boy," Willa was saying to the dog in a light, silly voice that had the dog panting happily into her face.
"That's right," she cooed, "you are, aren't you? Aren't you a good boy?"
"Well I don't like to brag," Keane said, leaning against the doorjamb. "But I do have my moments."
*
"Is there anyone there with you?" she asked.
He turned his phone so she could see that he was in his bedroom at Vallejo Street, alone except for Pita sleeping on his pillow.
"I thought she wasn't allowed on your pillow."
"She's not," he said. "But apparently she's the ruler and I'm just her bitch."
*
"I really am all sorts of messed up…"
"Well you're not alone there."
*