Goodreads Summary:
Will a budding wedding planner and her bad boy neighbor stop banging heads and start hearing wedding bells in the sexy second novel in USA TODAY bestselling author Lauren Layne's irresistible new series that marries Sex and the City with The Wedding Planner?
When small-town girl Heather Fowler finally gets promoted from assistant to actual wedding planner, she's determined to make it as one of Manhattan's elite Wedding Belles. Unfortunately, her first client demands an opulent black-tie affair at the Plaza…in five months' time. Heather's days quickly become a flurry of cake tastings, dress-fittings, RSVP cards, and bridal tantrums. But what she's really losing sleep over is the live music blaring from her playboy neighbor's apartment all night.
Five years ago, Josh Tanner was an up-and-comer on Wall Street, complete with the penthouse and the migraines. But a grim cancer diagnosis made him realize there is more to life than the corner office. If only he could convince his pretty, workaholic neighbor to let loose, too. As Heather lets down her guard, Josh is surprised when he starts falling for the sweet, vulnerable woman hiding beneath those power suits. Soon, it's Heather's turn to convince Josh to take the biggest risk of all: love.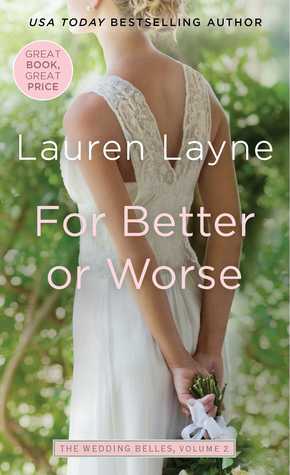 My Rating - 5 stars!
First I just want to say that I Love the covers of this series. And there is no doubt that I love Lauren Layne's books. So I was very happy to receive an ARC of this copy from Netgalley. And even more happy because I loved reading this book.
We meet Heather, our heroine, in the previous books. She is one of the Belles. As in works as a wedding planner, well an assistant wedding planner, but she is up for promotion. And she needs her sleep because weekends are her big days. But enter Josh, our hero, former Wall Street worker turned musician. Who plays music so loud Heather can't get a moment's sleep.
So they get on this very cute frenemy kind of foot. I loved the main characters. Where Heather is feisty and strong and vulnerable at the same time, Josh is funny, witty and with some secrets of his own. Their banter was very fun to read.
"The other night when you were so cranky, I thought for sure you must be a morning person… I see now that this irritable thing you have going on is more of a twenty-four/seven thing."
Their chemistry is really good so its very hard not to give in to the temptations. Especially when Josh is being super helpful when Heather sleeps in the her friends are coming over for brunch. And Heather seeming vulnerable hiding behind those power suits. As they come to know each other, they discover they like each other more than they though.
But the struggle is real. Josh is all about living in the moment but he is also tired of that and he loves his numbers. Can he keep his distance from Heather? Can Heather?
I really liked the side characters as well, Josh's family, the Belles, I loved seeing taking the next steps in theirs lives, loved seeing Alexis and Logan, I so can't wait for their book! Basically I just loved seeing all the main characters in a group. What I wanted was a long epilogue for Josh and Heather. But I always want that for every book so..yeah. LOL. Hoping to see more of Josh and Heather in the next book as well.
Some of my favourite quotes :
*
"I was brooding."
"You mean sulking," Heather corrected.
"No, YOU were sulking. I was brooding."
"Why the distinction?"
He pointed at her breasts then her crotch. "Tits. And, ah-"
*
she stepped forward, bending at the waist until her lips were near his ear. "I love you. I'll always love you."
*
"I love you more than is sane for any man to love any woman. All the way, to the ends of the earth."
*
*ARC provided via Netgalley in exchange for an honest review.*