Goodreads Summary:
SOMETIMES YOU CAN GO HOME AGAIN…
After an overseas mission goes wrong, Army Special Forces officer Jacob Kincaid knows where he must go to make things right: back home to the tiny town of Cedar Ridge, Colorado. All he needs to scrub away his painful past is fresh mountain air, a lakeside cabin, and quiet solitude. But what he discovers is a gorgeous woman living on a boat at his dock.
Sophie Marren has nowhere else to go. She's broke, intermittently seasick, and fighting a serious attraction to the brooding, dishy, I'm-too-sexy-for-myself guy who's now claiming her dock. Something about Jacob's dark intensity makes her want to tease—and tempt—him beyond measure. Neither one wants to give any ground . . . until they realize the only true home they have is with each other.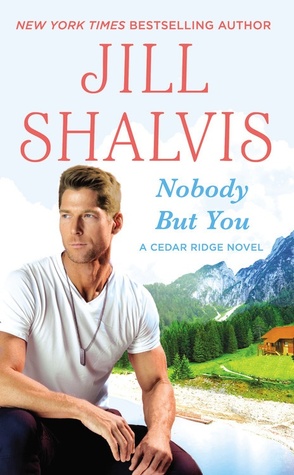 My Review :
Nobody But You is the third instalment of Cedar Ridge series by Jill Shalvis. JS can create really nice and cute little towns with which you will fall in love. Same thing happened with me with this series. I fell in love with all the characters of the Kincaid family members in the first book itself and fell more in the second book. We don't meet Jacob earlier but we come to know of him in the previous books.
Jacob is Hudson's twin brother. And due to some arguments and different views of the world they separate and go different ways. Hudson stays with the family and Jacob ends up in the army. Jacob is now back after years of being away. And he doesn't know how to go back to his family. But on his first day back he meets our heroine who is trying to "park" her boat or moor it. And yes, she doesn't know anything about boats. But due to some circumstances she ends up on a boat.
Sophie Marren is a sweet woman who has been burned by her cheating ex husband. She is trying to get on with her life, which is turning out to be difficult as she gave everything up for her ex and in return she gets nothing. Sophie is very hard working and she never quits.
Jacob and Sophie have a great chemistry. They decide to live in the moment and enjoy each other's company and slowly they fall for each other without realising it and also not knowing what to do with it. Jacob has some trouble accepting his feelings for Sophie because he is scared of losing people due to some heart breaking incidents taking place when he was in the army. Sophie understood all that and didn't give up on Jacob easily and she made him feel better too by arranging some meet up for veterans at the resort in the end. That part was my favourite. Jacob also helps Sophie out a lot that was very sweet. While I liked their story but Hudson and Bailey remain my favourite couple. In fact, I liked Aidan and Lily's story better too.
Jacob has some difficulties going to his family in the beginning but in the end Kincaids make it work. He buys a cabin in the town and starts helping his family out with the resort stuff and he slowly becomes a part of the family. I loved how everybody in the family welcomes him with open arms and accept him without any doubts or resentment. They're all very sweet. I loved meeting all the previous characters.
Some of my favourite Quotes:
Not that she'd run here from the lake. Nope, the only time Sophie did any running was if a bear was chasing her, and that hardly ever happened.
*
"He was a smart enough guy to get that she was the one for him. He was also smart enough to know that he was going to have to work his ass off for it."
*
"I can't think in your presence."
"Why not?"
"Because looking at you is like..." She tossed up her hands. "It's like walking down the chips and cookie aisle at the grocery store. I can't resist you, and then I'll forget why you're bad for me."
*