Goodreads Summary:
UNEXPECTED AND UNDENIABLE...
Bailey Moore has an agenda: skiing in the Rockies, exploring castles in Europe, ballroom dancing in Argentina. Now that she has a second lease on life, she's determined not to miss a thing. What she doesn't realize is that item #1 comes with a six-foot-one ski god hot enough to melt a polar ice cap. She doesn't want to miss out on him either, but Hudson Kincaid isn't the type of guy to love and let go. And as gorgeous as Cedar Ridge is, she's not planning to stick around.
As head of ski patrol at his family's resort, Hud thinks he's seen it all. But never has he run into someone like Bailey. She might look delicate, but her attitude is all firecracker. And her infectious joy touches something deep within him that he's been missing far too long. Now he'll just have to convince Bailey to take a chance on her biggest adventure yet . . . something rare and all kinds of wonderful.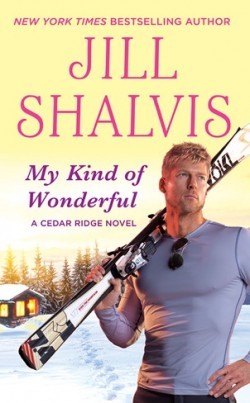 My Review :
There is no surprise now what I am going to say, like in every review of this author's book, I am going start off by saying, I freaking LOVE this author. Her writing, her personality, which you come to know, if you stalk *ahem* follow her on her social media and her blog, are awesome. I can't get enough of this author. Thankfully she writes continuously even though she is behind the deadline everytime. You get books by her in every few month. So Thank you Jill Shalvis for awesome books and hopefully you continue on for a Long, long time. Now that my fangirling moment is over and if you are still reading this review, I will get on with it.
My Kind of Wonderful is the second instalment in Cedar Ridge trilogy. This book is a 5+ stars book for me. Never have I ever given that rating. Its just the characters spoke to me and the writing was amazing, I can't help it but give it a 5+ rating. But mostly the extra rating is for Bailey, our heroine.
Bailey Moore is a cancer surviving person, who went through all kinds of hell since her teenage years. Now that Bailey is on the road to the recovery and be cancer free, she wants to live life to the fullest. She wants to go skiing, explore castles and all kinds of stuff which are there in her agenda.
She inspired me a lot. She decides that all this time she was dying, she wants to live now. And she does. Her personality is so good. She loves with an open heart. In fact she does everything with an open heart. The way she takes on with her life after cancer, and she doesn't let that control her life. She appears thin and frail but is so strong willed and is fighting to live. That is why, she is my favourite heroine and the extra stars are for her.
Meet Hudson Kincaid, he is a six-foot-one ski god hot enough to melt a polar ice cap. But he is also suffering because his twin is gone and he blames himself. He is a brooding guy who doesn't remember when was the last time he smiled and he does that immediately when he sees Bailey. Between being a cop and a skii patrol, and looking after the resort their father left them with a ton of debt, he is a very busy guy. But he makes time for his mother who is suffering from Alzheimer's, and to keep tabs on his twin.
Hudson has never met anybody who is as delicate yet has the strongest will and is a firecracker like Bailey. He instantly realizes that Bailey touches something deep within him. And is ready to explore. He is also one of favourite heroes, because the way he was with Bailey was just amazing. He doesn't treat her like others do, some fragile human being.They immediately fall for each other but are too stubborn to admit it. And then there are some misunderstandings and snow storm between them but in the end they come out stronger than ever.
"The thought of you leaving and staying away made me want to drop to my knees," he said. "How's that for someone who doesn't care? It's been three days, twelve hours, and six minutes without you." She blinked. "You kept track of the minutes?" "No, I made that part up," he said. "I was trying to load the evidence in my favor."
The rest of the characters from the first book are there. They are hilarious. Every one of them. Aidan, Gray, Kenna, Lily and Penny. All of them have a piece to offer ready at their hands. I can't get enough of their commentary. I have to put them in this review. So here you go:
"I got held up by the storm but went after you as soon as I could. You'd left this huge Bailey-size hole in my heart, but the storm—it was the only thing that could've stopped me." "Oh, good save," Gray muttered. "Makes up for him being so slow on the uptake." Penny smacked Gray lightly on the chest. "Shh. And it wouldn't hurt you to be taking notes here, Mr. Not Romantic. You might actually learn something."
*
"In our offices," he said, "everything that has to be done each week goes up on a scheduling wall, which inevitably starts a fight over who's going to do what, so we started a new thing this year. We throw darts for the chores.
*
"Go big or go home. That was the Kincaid way."
The reason why Jill Shalvis's books are all kinds of wonderful is because she makes them realistic with a touch of drama. Not everyone is out for your blood or is a villian. Not always there's a third person in the story. She makes characters nice and realistic, with a hint of dramatic flare to them and that makes you like them.
Some of my favourite Quotes:
"Oh boy. "Aren't you afraid that might express personal interest?"
His smile was a little naughty. "I've had my tongue down your throat. I'm pretty sure I've already expressed personal interest."
*
"I took one look at you," Hud said to Bailey, "and control went flying out the window. You tore down the brick wall around my heart one smile at a time."
*
"Don't worry about whether you can do it, Bailey Bean. Just pretend you can. Pretend enough and it becomes real."
*
"That's just life. There's good and there's bad. My happiness and safety won't come from having a man. It comes from me."
*
"When it comes to you?
Hell no…
With you I'm so far out of my league, I can't even see the league."
*
"She stared at him and nodded. "Yes, you're right."
He cocked his head as if he couldn't hear her. "What was that?"
"You're right." She gave him a little push and he had to laugh.
"I heard you the first time," he admitted. "I just like the way that sentence sounds on your tongue."
*