Goodreads Summary:
From the USA Today bestselling author of Midnight Captive, the latest Killer Instincts novel is "off-the-charts-hot"* romantic suspense that takes readers into the heart of an enigmatic mercenary.
..
Out of all the stone-cold mercenaries in Jim Morgan's black ops organization, Derek "D" Pratt is the most intimidating. He is tight-lipped and covered in tattoos, and even the other guys on his team are afraid to ask him about his past. D's been off the grid for years, but after his teammate Sullivan is mistakenly captured in his place, D is forced to come out of hiding and face his demons.
When D lands in Mexico, he's ready to risk everything to save his friend. To complicate matters, Sofia Amaro, a feisty doctor whom D had a one-night stand with months ago, has tracked him down. And in an instant she's unintentionally caught up in his life-threatening rescue mission.
Now D must extract not one but two people from the most violent world he's ever encountered. And one of them is carrying his child...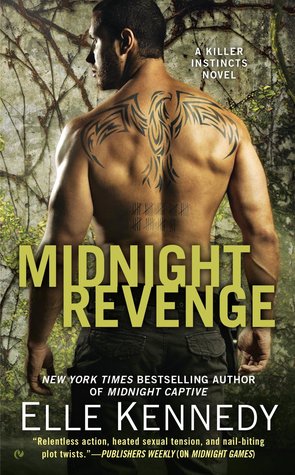 My Review :
We meet Derek "D" Pratt in the first book and it is immediately clear that D is a cold person. Not just cold but all things related that are bad. I don't know what I expected from this book because D was certainly not my favourite person from the book and I was more excited for Sully and Liam's part but this book surprised me because the author not only nailed the Laim/Sully story and has now made it impossible to wait more for their book, but D's story was just as amazing!
We met Sofia in the previous books, she is a doctor and often operates on the team members. She was sweet, strong and so perfect. But she was a perfect balance to Derek's character. I really liked how he opened up to her as the story proceeded. And as suspected D's past was the reason why he was like that but it turned out horrible than I expected and then I really felt for him. The lead characters together were really amazing.
"You think if you know what happened to me you'll magically be able to figure me out? Fix me? Baby, nobody can fix me. I'm broken beyond repair."
Derek is in Mexico looking for Sullivan and as he suspected his past catches up with him and Sully is suffering because of him. And that he is hell bent on saving Sully and facing the past. But he hadn't expected the whole 'A-Team' to follow him and that overwhelms him. We get see the A-Team together fighting. That was awesome!
We also get Liam and Sully's story which was heartbreakingly sweet and again is very difficult to wait for their book cause of the side story. We get a cameo of all the characters and there's a wedding and all. So it was a nice addition to this series.
Some of my favourite quotes:
"It was so strange. She'd known the man for years, and during that time the only feelings he'd evoked in her were curiosity and indifference. But three measly days at his side, and somehow she'd fallen in love with him."
*
"I, uh, love you," D repeated. He clumsily rubbed the back of his neck, then his cheeks. Either she was imagining it, or his fingers were actually trembling."
*
"Should I say it again?" He looked confused for a beat, but then it turned to wariness. "I've never said that to anyone before. Am I supposed to give a longer speech or something?" A laugh flew out. Oh God. This man was priceless. Sofia finally found her voice. "You love me?" "Yeah, I do. I probably should have led with that, but the state of your fucking house really pisses me off and I got sidetracked."
*
"Why did he always leave her wanting more? She didn't know him. She wasn't sure she liked him. Yet she always wanted more."
*