"Waiting On" Wednesday is a weekly event, hosted by Jill at
Breaking the Spine
, that spotlights upcoming releases that we're eagerly anticipating.
Title:

I Wish You Were Mine (Oxford, #2)
Author:
Lauren Layne
Genre:

Adult, Contemporary
Romance
, Sports
Publication Date:
February
2nd, 2016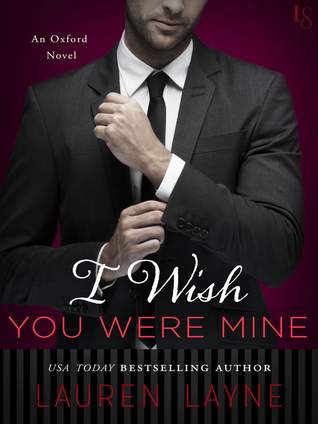 Perfect for fans of Alice Clayton and Emma Chase, Lauren Layne's Oxford series heats up in this story of forbidden desire as a brooding jock hoping for a comeback falls for a woman who's strictly off-limits.

A year ago, Jackson Burke was married to the love of his life and playing quarterback for the Texas Redhawks. Now he's retired, courtesy of the car accident that ruined his career—and single, after a nasty scandal torpedoed his marriage. Just as he's starting to get used to his new life as a health and fitness columnist for Oxford magazine, his unpredictable ex shows up on his doorstep in Manhattan. Jackson should be thrilled. But he can't stop thinking about the one person who's always been there for him, the one girl he could never have: her younger sister.

Mollie Carrington can't say no to Madison. After all, her older sister practically raised her. So when Madison begs for help in winning her ex-husband back, Mollie's just glad she got over her own crush on Jackson ages ago—or so she thought. Because as Mollie reconnects with Jackson, she quickly forgets all her reasons to stay loyal to her sister. Tempted by Jackson's mellow drawl and cowboy good looks, Mollie is sick and tired of coming in second place. But she can't win if she doesn't play the game.
I'm waiting because...
I really liked Stiletto series more than I expected and the first book in this series, Irresistibly Yours, just turned out to be my super favourite book so I can't wait for the second one in this series. Plus, the last part from the previous book just left me intrigued for the second book. And the synopsis! I haven't read any book with this kind of situation.
What are you waiting on this Wednesday?