Goodreads Summary:
Emma is like every girl in the world. She has a few little secrets.
Secrets from her mother:
1. I lost my virginity in the spare bedroom to Danny Nussbaum while Mum and Dad were downstairs watching Ben Hur.
...From her boyfriend:
2. I'm a size twelve. Not a size eight, like Connor thinks.
3. I've always thought Connor looks a bit like Ken. As in Barbie and Ken.
...From her colleagues:
4. When Artemis really annoys me, I feed her plant orange juice. (Which is pretty much every day)
5. It was me who jammed the copier that time. In fact, all the times.
...Secrets she wouldn't share with anyone in the world:
6. My G string is hurting me.
7. I faked my Maths GCSE grade on my CV.
8. I have no idea what NATO stands for. Or even what it is...
...until she spills them all to a stranger on a plane. At least, she thought he was a stranger...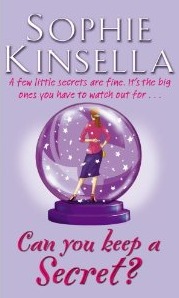 My Review :
I have been wanting to read Sophie Kinsella's books, ever since, I watched Confessions of a Shopaholic but never got to it. When I saw this book in a sale and my friend Janhvi insisted to buy this and when I read its synopsis, I was hooked into it.
It is, as can be seen in the synopsis, hilarious. It was refreshing cause of its hilarity, story situated in London, British words/writing and I totally loved the writing. It was quite a change for me to read a book where an American hero is a foreigner and not the other way around.
Emma is struggling to find a right career and being successful at it. Constantly being compared to her cousin(I totally disliked her by the way) at home. And then she has a terrible day and is bumped into business class seat. She finally feels that her day is turning great, only to make it a sharp U-turn, when the plane hits some clear-air turbulence and it becomes a bumpy ride and Emma thinks that she's gonna die and ends up spilling all of her secrets to an American stranger.
Next day in the office, still unnerved by her flight experience, she finds out that the American Stranger is actually the head of Panther Cola company, for which she works. Jack Harper, he was pretty much a knight in a shinning armour for Emma through out the book. Remembering all her secrets and solving her problems and everything. Until he isn't and messes up in the end.
I liked Jack for major portion of the book but he just turned into a twat in the end and Emma was a bit hasty in making certain decisions too and there was some miscommunication and trust issues were there. But I liked that Emma didn't go back to him easily and Jack had to beg. And everything in the end worked out well.
I deducted one star from my rating cause of the ending. I felt it was abrupt even not technically but I wanted to read a little more, maybe one more chapter. Cause its a standalone, you won't get more of them to read. But aside from that, I love the book.
Some of my favourite quotes:

*
"It's the way he had a cup of tea waiting for me when I woke up. It's the way he turned on his laptop especially for me to look up all my Internet horoscopes and helped me choose the best one. He knows all the crappy, embarrassing bits about me that I normally try to hide from any man for as long as possible… and he loves me anyway."

*
"Relationships are all about trust and equality. If one person shares, then the other person should share, too."

*
"I've always had this deep-down conviction that I'm not like everybody else, and there's an amazingly exciting new life waiting for me just around the corner."

*
"So", says Jack at at last..."you broke up with Connor".
Wow. So we're straight to the point.
"So", I reply defiantly. "You decided to stay".
"Yes, well...", "I thought I might take a closer look at some of the European subsidiaries." He looks up. "How about you?"
"Same reason." I nod. "European subsidiaries"."

*
My Rating - 4 stars!