Goodreads Summary:
First person in her family to go to college? CHECK.
Straight A's? CHECK.
On track to graduate early? CHECK.
Social life? …..yeah, about that….
With just a few weeks until she graduates, Antonella DeLuca's beginning to worry that maybe she hasn't had the full college experience. (Okay... Scratch that. She knows she hasn't had the full college experience).
So Nell does what a smart, dedicated girl like herself does best. She makes a "to do" list of normal college activities.
Item #1? Hook up with a jock.
Rusk University wide receiver Mateo Torres practically wrote the playbook for normal college living. When he's not on the field, he excels at partying, girls, and more partying. As long as he keeps things light and easy, it's impossible to get hurt... again. But something about the quiet, shy, sexy-as-hell Nell gets under his skin, and when he learns about her list, he makes it his mission to help her complete it.
Torres is the definition of confident (And sexy. And wild), and he opens up a side of Nell that she's never known. But as they begin to check off each crazy, exciting, normal item, Nell finds that her frivolous list leads to something more serious than she bargained for. And while Torres is used to taking risks on the field, he has to decide if he's willing to take the chance when it's more than just a game.
Together they will have to decide if what they have is just part of the experiment or a chance at something real.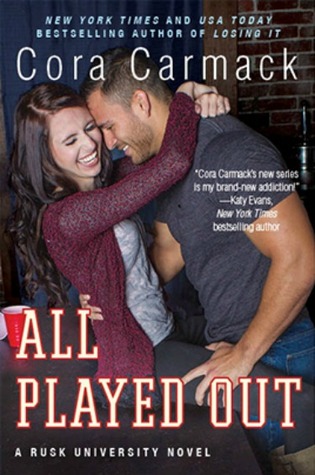 My Review :
Well I love what Cora Carmack writes and first two books in this series were definitely hits, first book being my favourite. But with this book, I can't really say, I was satisfied with it. Liked it but not my favourite book. It was 3.5 star read for me.

We meet Antonella DeLuca 'Nell' in the second book, she is Dylan's roommate. She is this nerdy, to-do list kinda girl who is graduating early from college and seeing Dallas with Silas makes her realize she haven't had this full college experience. And so she gets on with making the list.

Mateo Torres is a football player alongside Carson and Silas. He is a party boy and a player. but when he meets Nell he can't get help but pursue her. Whether Nell likes him or not. On various occasions she shots him down but Toress just can't help himself and go behind her.

I liked the opposites attract thing in this book. I liked the list thing. I am a little list kinda girl too. so I liked that about the heroine. Plus the list was definitely interesting. Well, of course some items on the list made me think, why the hell is that on the list? Is that how college life is in reality? Nope. But otherwise it was okay.
But it got annoying cause spoiler alert: for more than half the book he compares Nell with his ex and I just didn't like that. He has issues cause of his ex, sure. But he always goes comparing her to his ex, made me think whether he like Nell cause of his ex. Even though that was cleared in the end I kinda felt that it was not nice.

All together, it was an okay read. I liked having all the previous book characters together. I loved having Stella in it but I wanted this book to be hers. Never mind, next book is Stella and Ryan's and I can't wait long enough for it!
Some of my favourite quotes:

"And when that day comes, it won't matter so much whether every step was in the right direction because life is not a straight line. It will only matter that you took them. That you never let yourself stand still."

"Making a stupid decision doesn't make you stupid. Just as making a smart decision doesn't necessarily make someone smart."

"Don't worry about whether you might be wrong someday. Worry about whether you're right now. Tomorrow can wait."


"how long can I live with just safe and easy before my life becomes completely devoid of meaning?"
My Rating - 3.5 stars!