Goodreads Summary:
In Texas, two things are cherished above all else—football and gossip. My life has always been ruled by both.
Dallas Cole loathes football. That's what happens when you spend your whole childhood coming in second to a sport. College is her time to step out of the bleachers, and put the playing field (and the players) in her past.
But life doesn't always go as planned. As if going to the same college as her football star ex wasn't bad enough, her father, a Texas high school coaching phenom, has decided to make the jump to college ball… as the new head coach at Rusk University. Dallas finds herself in the shadows of her father and football all over again.
Carson McClain is determined to go from second-string quarterback to the starting line-up. He needs the scholarship and the future that football provides. But when a beautiful redhead literally falls into his life, his focus is more than tested. It's obliterated.
Dallas doesn't know Carson is on the team. Carson doesn't know that Dallas is his new coach's daughter.
And neither of them know how to walk away from the attraction they feel.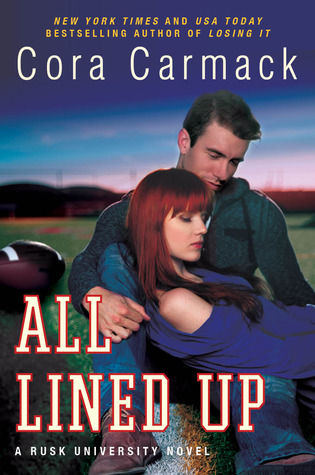 My Review :
I have been a fan of Cora Carmack's writing since I read Losing it and books followed by it. Ergo, I was very excited to read her new series and boy did I love this book. I think this is the best book of hers till now.
Dallas is studying in Rusk University where her father coaches and hence she can't fully have a college experience. As the other kids are either too scared to approach her or are just behind to get in good grace of her father. Also with her ex being in the team. At one point she used to enjoy Football but she comes to hate it because of all this. There is lot unsaid between Dallas and her father and I love that how towards the end of the book they seem to come closer and resolve some issues between them.
Carson is the most sweetest hero I read about in NewAdult genre and he stole the spotlight from the moment he came into the picture. He is one of my favourite heroes. He is hard working who loves football. He came from a poor family and didn't take anything for granted for the love of football.
Their meeting is oh so cute! Dallas is frustrated with her ex and his friends and tries to escape from the party and finds herself talking to this stranger Carson and finds herself attracted towards him. I like their first meeting. They hit it off so quickly.
"Why would you want to hang out with me? I'm likely to be a roaring bitch for the rest of the
night."
So honest. And gorgeous. It's a rare combination. I have to remind myself again that I don't have
the time to really appreciate this particular rarity.
"What can I say? I have a thing for screamers."
But later, Dallas finds out that he is a football player and Carson finds it hard to digest the fact that Dallas is in fact his Coach's daughter.
In spite of all that they can't resist and from there their story begins. I loved both Carson and Dallas. They were perfect for each other.
There is lot unsaid between Dallas and her father and I love that how towards the end of the book they seem to come closer and resolve some issues between them.
It was a good story with great dialogue, humour, friends and drama. I liked the dedication as well! And how the book had some of the author's personal experiences. It is a great read if you're looking for a fresh NewAdult book involving sports.
Some of my favourite quotes:
"Because sometimes in life, you just have to stand there and do nothing. Overwhelmed by all the versions of ourselves that exsist in our minds - who we want to be, who we should be, who we're not, and who who we are - it's a jungle that can ensnare your feet and confuse your eyes. But sometimes if you stand still, all those things will snap back into place like a rubber band. And if you can get past the sting, you can keep moving, not quite whole, but held together for the moment."
"I've spent too much time pretending, too much time on the outside, too much time feeling spineless. This time... I'm going after what I want."
"I swallow and stare and swallow again, because dear, sweet Jesus riding a unicorn, he's perfect."
"I don't know that dancing fixes anything. I don't feel magically happy because of it. My problems don't disappear when the music ends. But I understand life better when I dance, and understanding is half the fight of surviving."
"I'm not one for speeches."
A few feet behind me Torres calls out, "Riiiiight."
The crowd laughs and Coach whirls around like he's searching for the culprit. Torres is the picture of innocence, and I sigh and shake my head when he grins at me.
"Fine. I'm not one for speeches that don't involve yelling."
"Carson McClain, you scare me like nothing has ever scared me before. You drive me crazy and make me laugh and push my buttons on purpose. You make me feel safe and smart and pretty. Sometimes I think I might actually melt when you wrap your arms around me, and right now I feel a little bit like I might die if you don't kiss me."
My Rating - 5 stars!