Goodreads Summary:
In this second book in New York Times and USA Today bestselling author Cora Carmack s New Adult, Texas-set Rusk University series, which began with All Lined Up, a young woman discovers that you can't only fight for what you believe in... sometimes you have to fight for what you love.
Dylan fights for lost causes. Probably because she used to be one.
Environmental issues, civil rights, corrupt corporations, and politicians you name it, she's probably been involved in a protest. When her latest cause lands her in jail overnight, she meets Silas Moore. He's in for a different kind of fighting. And though he's arrogant and infuriating, she can't help being fascinated with him. Yet another lost cause.
Football and trouble are the only things that have ever come naturally to Silas. And it's trouble that lands him in a cell next to do-gooder Dylan. He's met girls like her before fixers, he calls them, desperate to heal the damage and make him into their ideal boyfriend. But he doesn't think he's broken, and he definitely doesn't need a girlfriend trying to change him. Until, that is, his anger issues and rash decisions threaten the only thing he really cares about: his spot on the Rusk University football team. Dylan might just be the perfect girl to help.
Because Silas Moore needs some fixing after all.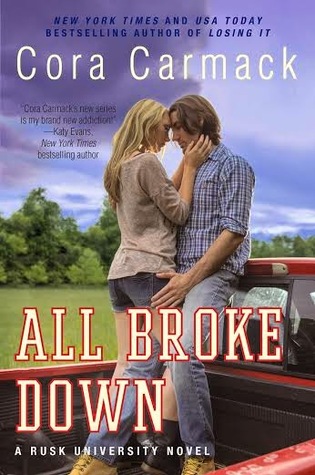 My Review :
Cora Carmack is one of my favourite NA authors. I loved reading the first book, All Lined Up. It was perfect and not a typical NA book. And though I expected a little more from this book, I enjoyed reading Silas and Dylan's story.
Silas Moore, we meet him in the first book as a fellow football player and he is kind of like an antagonist in the first part of the first book, he kind of becomes little nicer in the last part. And in this book you really come to know about him. He is poor and not that smart but one thing he is really good at is football.
Dylan fights for lost causes like for environmental issues, civil rights, corrupt corporations, and politicians and fighting for one of these causes she finds herself in jail and meets this dangerous and beautiful stranger, Silas.
Silas cannot afford jail time and losing his spot in the football team and the fight against one team member lands him there. Dylan is this do-gooder and Silas is this bad boy. Both from different worlds and yet finds themselves attracted to each other.
Both Silas and Dylan has issues. She deals with it by wanting to fix everything hence a fixer in Silas's eyes. And Silas deals with it by being angry all the time. Even though the attraction between the two is clear as day it takes time to build the relationship between them.
Even though Carson and Dallas remain my favourite couple I liked Silas and Dylan too. I like how Carson and Silas also become more better friends in this book. As it is Cora Carmack's book, there was humor in the book and I totally loved it. The banter between the boys and Carson/Dallas parts were good to read. It was good read put together.
Some of my favourite quotes:
"Dudes who look dangerous should just be dangerous. Period. The end. They should not be dangerous and beautiful all at the same time. It leaves the universe out of balance, and it makes me do stupid things like stare."
"I will never be able to turn this girl down. Whatever she wants from me, it's hers. No matter what she asks for, I'll find a way to give it to her. She may not be mine, but somewhere along the way, I ended up hers."
"I know now why caring about another person is so damn scary. It's not that they won't care about you back, because that either happens or it doesn't. You live with it or you do everything you can to change it. The really scary thing is the moment you realize that for the rest of your life, you'll feel twice the pain, twice the joy, twice the fear.
Twice as helpless to control it all, too."
"Why isn't there a reality TV show filled with hot guys doing sweaty, mouthwatering tasks?
Oh, right. That's called sports"
"You're really hitting on me? After we just met in jail?"
"Is it working?"
"I'm figuring out what I want by trial and error, and maybe that's not the best way, but it's all I've got. All I know is that I need to be my own person, someone shaped by my desire, not fear of disappointing the people who are supposed to love me."
"Except I'm starting to think that the idea of "belonging" anywhere is false. We go through our whole lives thinking that we belong in one place and not in another. We think certain ideas and actions have to be relegated to the tiny little boxes we place them in. What if we just react instead? What if we take whatever the world gives us and instead of focusing on what it isn't, we enjoy what it is?"
"Haven't you ever wanted to do something that everyone tells you is impossible and pointless? Haven't you ever cared about something enough to sacrifice for it? Regardless of how stupid or unlikely it seems. Haven't you ever wanted things to be different?"
"He blocks out the sun, and maybe it's the pain or maybe it's just him, but it feels like one of those rare total eclipses where you know you're not supposed to look because it can destroy your eyes or something, but it's so incredible that you can't help it."
"I'm going to shatter into a thousand pieces from the intensity of this kiss alone."
My Rating - 4.5 stars!