"Waiting On" Wednesday is a weekly event, hosted by Jill at
Breaking the Spine
, that spotlights upcoming releases that we're eagerly anticipating.
Title:
Still the One
Author:
Jill Shalvis
Genre:
Contemporary Romance, Women Fiction-Chick lit, Adult
Publication Date:
April 7th, 2015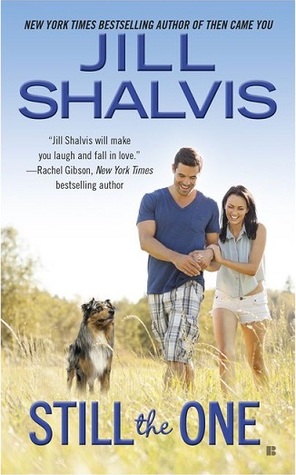 Goodreads Summary-
Darcy Stone is game for anything — except sexy Navy veteran and physical therapist A.J. Colten, the guy who'd rejected her when she'd needed him most. Now the shoe is on the other foot and he needs her to play nice and help him secure grants for his patients. Unfortunately, Darcy can't refuse. She needs the money to fund her passion project: rescuing S&R dogs and placing them with emotionally wounded soldiers.
A.J. admits it — Darcy is irresistible. But he's already been battle-scarred by a strong-willed, vivacious, adventurous woman like Darcy, and he's not making the same mistake twice—until he and Darcy are forced to fake a relationship. Growing closer than they'd ever imagined possible, Darcy and AJ have to ask themselves: how much between them is pretend? What's the real thing? And where does it go from here?
I'm waiting because...
I love Jill Shalvis and after Lucky Harbor, Animal Magnetism series is my favourite of hers. Also we meet A.J and Darcy in the previous book and they sounded very interesting, I can't wait to read about them.
Which book are you waiting for?