Goodreads Summary:
HE'S USED TO GETTING WHAT HE WANTS…
A former football star and one of Chicago's top prosecutors, Assistant U.S. Attorney Cade Morgan will do anything to nail a corrupt state senator, which means he needs Brooke Parker's help. As general counsel for a restaurant company, she can get a bug to the senator's table at one of her five-star restaurants so the FBI can eavesdrop on him. All Cade has to do is convince Brooke to cooperate—and he's not afraid to use a little charm, or the power of his office, to do just that.
AND WHAT HE WANTS IS HER.
A savvy businesswoman, Brooke knows she needs to play ball with the U.S. Attorney's office—even if it means working with Cade. No doubt there's a sizzling attraction beneath all their sarcastic quips, but Brooke is determined to keep things casual. Cade agrees—until a surprising turn of events throws his life into turmoil, and he realizes that he wants more than just a good time from the one woman with whom he could fall terrifyingly, irresistibly in love . . . !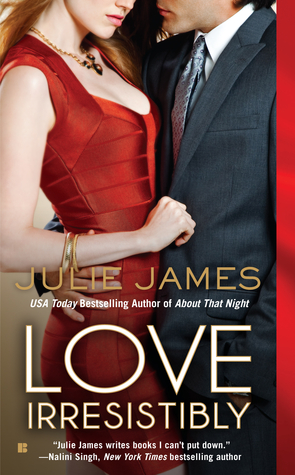 My Review:
Julie James is one of my favourite authors. I love her writing. Her characters, main as well as the side characters are so lovable and fun. She has the right balance between humorous and serious situations.

So Cade Morgan is a former football star and now one of Chicago's top prosecutors, Assistant U.S. Attorney. Brooke is a general counsel for a restaurant company. . Like given in the summary, Cade needs Brooke's help to gather evidence against a corrupt state senator. So his plan is to bug the table where senator is going to be where Brooke works. And their first meeting was filled with the banter between the two. It was hilarious! I love Julie James's opening too.
"That is nice, Mr. Morgan. Because in response to your tough-guy speech, I, in turn, would've had to give you my tough-girl speech, about where, exactly, federal prosecutors who come to my office looking for assistance can stick their obstruction of justice threats."

Cade and Brooke, both of them are very successful in their careers. That is why, both of them have suffered to have love lives. But they can't deny the chemistry between them. So they decide for casual relationship. And the dialogues between the two were again very funny! Brooke actually google searches the rules to casual dating!

Then Cade finds out about Zach, his half brother. I liked how good their relationship grows. And Cade overcomes his past issues. Love between Brooke and Cade grows slowly. I really liked Brooke. She was savvy, sarcastic(I love a sarcastic heroine always!) but she used to show how nice she can by doing little things like offering a champagne bottle for a couple distressed at the restaurant and stuff. She could handle Cade Morgan just fine.

Then certain circumstances occur and how she makes the decisions. I could relate to her. It was a really good read. I loved the side characters Huxley and Vaughn. Zach was also a nice addition. I also LOVED the updates on other characters, Cameron and Jack And Rylann and Kyle!

Some of my favourite quotes from the book :

"I love you. On intense days. On good days. On long, exhausting work days. On really strange days when I find out that I have a long-lost brother. And most of all, on days when you make me smile, which happens to be every day I'm with you. You are not just a big-picture girl for me, Brooke Parker. You're the only picture."

"I heard this theory once that love means your subconscious is attracted to someone else's subconscious."

"You're not pathetic. Actually, I envy you a little."
"Because I'm a mess?" Zach asked dryly.
"No. Because you're not afraid to be a mess."

"And after that, he'd probably tell you that if he ever finds a girl who fits him as perfectly as Brooke fits you, that he hopes you're a good enough friend to say, 'Dude, get over your shit, get off your ass, and go talk to her."

"In answer, she took his hand and placed it on her chest. Right over her heart. 'You're in, Cade Morgan. Only you."

"You are not just a big-picture girl for me, Brooke Parker. You're the only picture."
My Rating - 5 stars!