Goodreads Summary:
From #1 New York Times bestselling author Colleen Hoover, a new novel about risking everything for love—and finding your heart somewhere between the truth and lies.
Auburn Reed has her entire life mapped out. Her goals are in sight and there's no room for mistakes. But when she walks into a Dallas art studio in search of a job, she doesn't expect to find a deep attraction to the enigmatic artist who works there, Owen Gentry.
For once, Auburn takes a risk and puts her heart in control, only to discover Owen is keeping major secrets from coming out. The magnitude of his past threatens to destroy everything important to Auburn, and the only way to get her life back on track is to cut Owen out of it.
The last thing Owen wants is to lose Auburn, but he can't seem to convince her that truth is sometimes as subjective as art. All he would have to do to save their relationship is confess. But in this case, the confession could be much more destructive than the actual sin…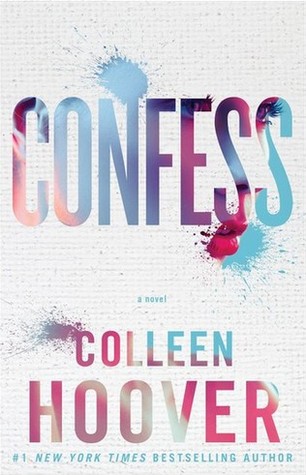 My Review:
I love Colleen Hoover's writing, her Slammed and Hopeless series are my favourite books of all time. But I haven't been reading anything by her for some time now cause the plot was not really my thing. I can't read love-triangles.
That is why when I read this book's synopsis I was on board immediately to read it. And it was a sweet read with some amazing paintings and quotes. But I had some issues with it.
Now it starts off with a prologue and it was so sweet, it was kind of like a one page story for me cause I connected more with those characters than the latter ones. Though Adam's family was quite a handful.
I liked the starting of the story where Auburn and Owen meet. Both of them were charming. Owen has this very cool gallery of paintings, where he paints the emotions of the confessions he gets from the people. I like the idea of confessions turning into paintings even though it might be disturbing after sometime painting the confessions. Also whatever connection I felt between them was only at that time.
Then as you go more into the story, they just sorta get together and stuff which was too fast for me. I didn't really get their this strong connection. Then Auburn turns into this easily giving in kind of girl. Now I understand she had her reasons but when someone is going to almost take advantage of you, you gotta speak up! Thank god for her roommate! Who I really liked, but didn't get much to read about. Same thing happened with her kid, AJ. I wanted to know more of him and his relationship with Auburn.
Owen also turns from charming to irritating character. He could have easily told her all the secrets before only. There was no harm in it! In fact his secrecy creates more sufferings. I wanted him to tell her the last secret also. It wouldn't have broken them so why start a relationship with a secret?
And the villains should have been punished more that they did. What they did to Auburn was really unfair. The end was sweet, dramatic yes, but still satisfying. Would have loved some epilogue.
My favourite quotes from this book:
"I love you so much." His voice is breathless and full of fear. "I'll love you forever. Even when I can't." My tears fall harder at his words. "And I'll love you forever. Even when I shouldn't."
"I'm scared I'll never feel this again with anyone else," I whisper.
He squeezes my hands. "I'm scared you will."
"I think love is a hard word to define," I say to her. "You can love a lot of things about a person but still not love the whole person."
"How can a fifteen-year old girl defend her love when that love is dismissed by everyone? It's impossible to defend yourself against inexperience and age. And maybe they're right. Maybe we don't know love like an adult knows love, but we sure as hell feel it."
"He kisses me like I'm his canvas."
"Every day of my life it feels as if I'm
fighting my way up an escalator that only goes down.
And no matter how fast or how hard I run to try to reach the top, I stay in
the same place, sprinting, getting nowhere."
My Rating - 3.5 stars!